Updated 9-May-2009
Roger Bannister cured my epilepsy.
"
Roger Bannister cured my epilepsy
" makes a great headline. True, too, because the man who broke the four-minute mile 53 years ago is also one of the top neurologists in the world, and something of an expert on epilepsy.
In 1981 Keith Scrivener met him. Keith, currently one of Great Bentley Running Club's most ardent runners, suffers from epilepsy. Today he keeps it at bay - "cured" for all intents and purposes - but before he met Bannister he was suffering big time.
"I had had yet another huge fit and my doctor - who was friendly with Sir Roger - referred me to him," he declared. "I travelled to London and went through hell while Sir Roger assessed me - I was spun round and round and had to stare at flickering lights, that kind of thing. I had about a dozen fits in an hour."
But that was nothing compared to Bannister's solution. "He told me he wanted me to try a new radical treatment, which had never been attempted before," he said. "Actually, he did say this radical treatment' was off the top of his head. I was more or less a guinea pig."
Keith, now 65, was told he could either be reliant on drugs for the rest of his life or start running every day. "If not running then some similar energetic sport," he explained. "The idea is to each day make my heart beat very fast. Sir Roger hoped this would stop the electrical connections in my brain from creating the massive seizures which had, up until then, blighted my life."
It wasn't only running. Keith would have to eat very differently, too. "No alcohol, tea or coffee - just water. I was told I would not be able to have meat, but to eat far more vegetables, rice and pasta." Keith admits he was scared. There was no guarantee this would work, but the epilepsy had become so bad he was desperate. "I had been accepted to train as an officer with the RAF, but the seizures put an end to that career," he said. "Just before I met Sir Roger the seizures had become so bad there were several times when I had to be revived. "With a large mortgage and my wife, Meryl, and three young children to support, it was crisis time."
Keith has always had epilepsy. At his local primary school - he was born in Hatfield Peverel - and at secondary school in Witham, he was conscious that those seizures controlled his life. "To completely change how I had lived for 39 years was daunting. But I had no choice. It was far better to try a new athletic, healthy way of life than to be an invalid - because that is what I was - for the rest of my days, and quite likely die young."
He opted to run. His son, Aaron, then 15, had just broken the local schools' cross-country record. Keith decided if his son could run, so could he. His first foray into this new world was a brave one. He opted to run the six miles from the family home in Maylandsea to Aaron's school, St Peters Burnham on Crouch, and to run home, too. Aaron thought he was "nuts".
"After one-and-a-half miles I was sick," he laughed. "I couldn't run any more so I walked to the school and then walked back home. I could not walk for three days after that. I felt awful." But he knew it could only get better. He was sticking to his new diet and he was going to stick to running. He began keeping a record of how he felt for his GP and for Bannister. Then, a couple of weeks later, it hit him. He hadn't had a seizure. In fact, the last seizures he has had were those induced in Bannister's clinic."
A few weeks after I began running I completed a half-marathon (13.1 miles) to raise money for St Peter's School Burnham on Crouch," he said. "My son was running, too, and I was determined to beat him. A friend set the pace and kept me in front of Aaron. I crossed the line ahead of him - just. Then I collapsed!"
Three months later he ran and completed his first marathon. To date, he has completed 90 marathons and wants to reach the magical 100. But as he gets older it becomes harder. "The fastest marathon I ever ran was the London Marathon when I was 48. I clocked three hours 20 minutes. Now it takes more than four hours. But I'm pig-headed and want to reach my 100 which I hope to run at the Halstead Marathon on the 11th of May 2008".
Keith joined Great Bentley Running Club six years ago, and it was one of his fellow-runners who suggested the 100 target. Marathon running has taken him across the UK and the world. But he doesn't only run marathons. He has completed 12-hour track races (running as many circuits of the track in 12 hours) and the Grizzly, the Cornwall Adventure Race.
"I am still sticking to Sir Roger's radical treatment'. At 65 I am fit and healthy - cure me? Of course, he did!"

Keith Scrivener on track in a 12-hour race...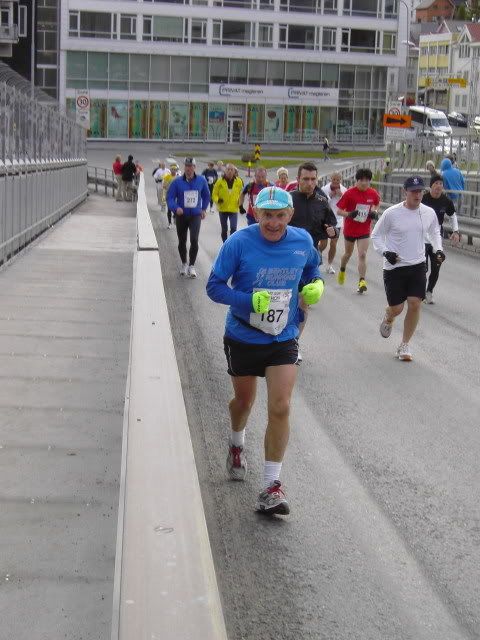 ...and at the Midnight Sun race.
In 2008 Keith was due to go into hospital for an operation two days before the Halstead Marathon. He had chosen it as his hundredth marathon. This was because it was his local one and one of his favourite courses.
The surgeon said he didn't look happy about that date. So he explained how he had to run the Halstead as his hundredth and the surgeon agreed to put it off till two days after the race.
The Halstead organisers kindly gave him running number 100 to celebrate the event.
He ran with the help of Paul his younger club mate pacing him. (Quite a sacrifice as he can run far faster.) Other club mates cycled round and another ran with him for the last mile. That support was added to by more of the Great Bentley R.C. club members on a drink station and wife and daughter cheering him on.
He finished in his slowest time nearly an hour and a half longer than his last run on the course. But he'd reached his hundred and he was presented with a special award and his colours by the 100 marathon club. Plus a magnification engraved plate by the Great Bentley running club.
On the Tuesday after the Halstead his operation was successful but because of the skin grafts he was forbidden to run for months.
However Keith will be on the start line for the 2009 race for his 104 marathon. This year he will wear his 100 marathon shirt and number 409.